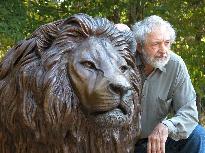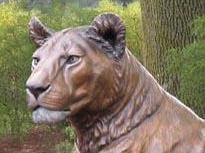 Copyright ©, Wildlife Bronze, LLC. All Rights Reserved
"It seems that as a species we have a stubborn tendency to veer away from any immediate, direct experience of nature whenever our expanding technology provides the means. Nature is seen as peripheral, set apart from our real lives, rather than as an intricate and infinitely complex nexus whose strands suspend and connect us all.

Wildlife art has the power to reforge an awareness of our immersion in the natural world. It lures us into difficult terrain to witness pristine wilderness. It plunges us deep into the heart of a distant forest or swamp. Or it sweeps us across an African savanna in the dry heat of mid-day, saying, 'Come quickly, look closely, you may never see this again.' The works of wildlife artists augment our individual experience of nature and lead us into an even more profound exploration of her mysterious heart."

For information and pricing

or write to:

Wildlife Bronze, LLC

2375 Date Line Road

Cloudland, Georgia   30731

or call (706) 862-2184


About the Artists

(click photo for larger view and captions)